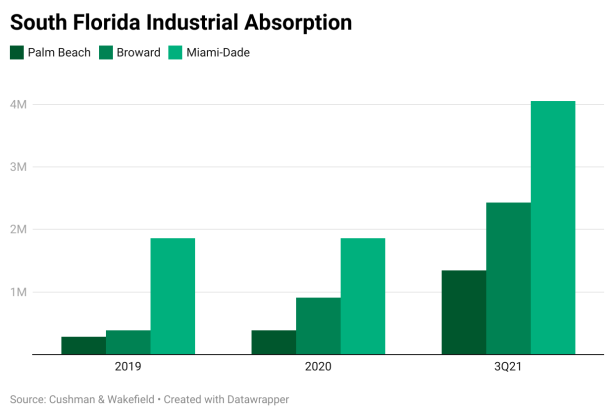 In Miami-Dade, leasing reached more than 6.8 million square feet year-to-date, an increase of 15.5 percent compared to the same period one year ago. For that same period, Broward County recorded more than 3.6 million square feet, a 36.1 percent rise from 2020. Palm Beach County had 1.0 million square feet in new leasing activity so far in 2021.
Limited availability on heightened demand allowed landlords to push asking rates to all-time highs. Overall average asking rents for all South Florida were at $9.87 per square feet, triple net, the highest amount recorded. Rents in Miami-Dade were at $9.17 per square foot, a 7.1 percent jump from last year. And Broward County also reached an all-time high of $10.27 per square foot in the third quarter. Palm Beach County topped out at $11.07 per square foot with the asking rate rising steadily over the last three quarters as construction picked up.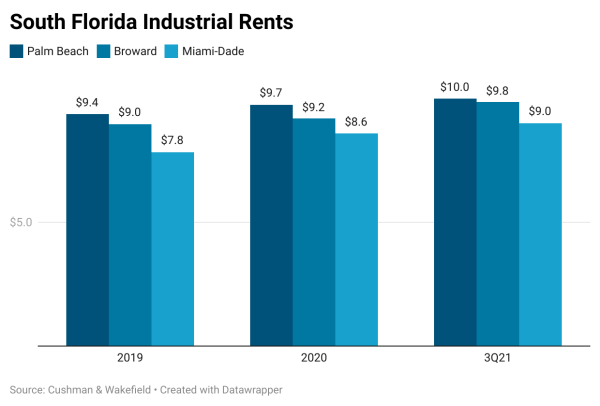 Confidence in South Florida's economy and potential for growth will only be enhanced by the lifting of U.S. restrictions on foreign travel. The influx of travelers and investors from overseas, starting over the holidays, will contribute to additional optimism in industrial market fundamentals in the region. The longer that challenges remain at West Coast ports to efficiently move goods into the United States means that South Florida becomes the better, more reliable strategic alternative for companies. The region's positive fundamentals post pandemic,including solid population growth and rising incomes, make South Florida an attractive market for investment.
Source: Commercial Observer